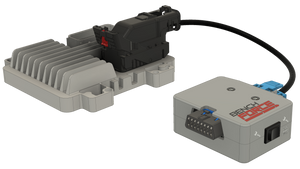 | | |
| --- | --- |
| | WELCOME TO THE BENCHFORCE™ FAMILY! |
BenchForce™ entry level enthusiast bundles make available to you the BenchForce™ product line with a buy-in that is more than 50% less than BenchForce™ commercial starter kits. This all-inclusive, application specific, bundle will give you the opportunity to grow. Simply choose from nearly 150 (and counting!) ECU programming harnesses from BenchForce™ as you need them.
BENCHFORCE™ ENTHUSIAST BUNDLES ARE AN EFI CONVERSIONS EXCLUSIVE
Through the use of the latest 3D printing technology, we offer enthusiasts a low-cost switch assembly with multi-color enclosure. Inside the strong plastic enclosure is the same production circuit board assembly that is used with all BenchForce™ commercial switch assemblies that feature anodized CNC billet aluminum enclosures. Should you have a need or preference of purchasing a BenchForce™ commerical quality switch assembly (which simply means with an aluminum enclosure), you won't need to purchase any other accessories to work with the items included with this enthusiast bundle.
ALL 1996-NEWER OBD-II COMMUNICATION PROTOCOLS ARE SUPPORTED
Our switch assembly supports all 1996-newer OBD-II communication protocols through a fully populated 16 pin OBD-II Diagnostic Link Connector (DLC). The circuit board mounted DLC maps to the 24 pin header on the other side of the switch assembly. ECU harnesses are built to make connections to the appropriate 24 pin header pins so that your programming interface tool, connected to the 16 pin DLC, will be able to send and receive data with the connected ECU. BenchForce™ offers several DLC adapter harnesses for programming interface tools requiring connections to other types of DLC connectors (like 9 pin J1939, Polaris, and so on). DLC adapters are sold separately and only through BenchForce™. The included switch assembly is ready for use with popular programming interfaces like GM Tech 2, GM MDI, HP Tuners MPVI devices, and EFILive FlashScan devices.
ALL ONBOARD OBD-II PROGRAMMABLE MODULES ARE SUPPORTED
The Aptiv (formerly Delphi) 24 pin Micro-Pack 100 header is a component found within many GM automobile modules. BenchForce™ uses this connection to interface ECU harnesses with the switch assembly. Many pins are mapped to the 16 pin OBD-II DLC while others are used for battery, ignition, and ground. BenchForce™ offers nearly 150 (and counting!) ECU programming harnesses. For modules not yet supported through an ECU programming harness, you may choose to build your own harness to support the module you are working with. BenchForce™ offers ECU harnesses for just about every enthusiast needs.
BATTERY AND SWITCHED IGNITION LED INDICATORS
The top of our switch assembly features flush-mounted LEDs to indicate 12V battery power and 12V switched ignition power. 12V battery power is applied to the switch assembly through the 2.1mm DC barrel jack on the side of the switch assembly. 12V switched ignition power is then applied through the switch assembly by using the 3-way rocker switch on the opposite side of the switch assembly. The 3-way ignition switch can enable the 120 ohm CAN termination feature.
QUICK-CONNECT 12V 2.1MM BARREL JACK
With flexibility and service in mind, our switch assemlby features a circuit board mounted 2.1mm barrel jack with center pin 12V battery positive. The max supported current is 5A. While we include a pigtail for use with your own bench power supply, you can optionally use an AC to DC power supply that has a 2.1mm barrel connector with center pin being 12V battery positive. We prefer to use the included pigtail and a Wanptek 30V 5A Programmable DC Power Supply through Amazon. Optionally, and slightly cheaper through the BenchForce™ store, you can purchase a small AC to 12V DC power supply that supports a max current of 5A.
12V IGNITION WITH SELECTABLE 120 OHM CAN TERMINATION
Vehicle ECUs that communicate via CAN bus are on a wired network with 120 ohm resistors applied across the CAN+ and CAN- wires on each end of the bus. The terminating resistors are CAN bus spec and are used to avoid signal reflections (bad signals) on the bus. In many cases, the Engine Control Module (ECM) contains one of the two 120 ohm termination resistors. Typically, one termination resistor will allow successful communication. When no termination resistor is found on the CAN bus, our switch assembly allows you to use the 3 way ignition switch to turn ON ignition and apply a 120 ohm terminating resistor across the CAN bus wires on 16 pin OBD-II DLC.
BENCHFORCE™ - VEHICLE WIRING SIMPLIFIED FOR THE BENCH
The BenchForce™ modular product line makes it easy for you to power up ECUs on the bench for read/write access using your programming interface tool and software. Our switch assembly does not perform as a PC to vehicle programming interface. By using your programming interface tool and software with our switch assembly, you will eliminate additional messaging on the communication bus from modules otherwise in the vehicle.
WHY CHOOSE BENCHFORCE™?
BenchForce™ products are designed and manufactured by EFI Connection, LLC in the USA. Through years of offboard programming experience and customer feedback, the BenchForce™ PowerBlock switch assembly was designed to meet the needs of commercial businesses and hobbyists for service programming and custom tuning use. BenchForce™ solved the following limitations of lesser quality solutions being sold today:
No unnecessary wiring as the result of the use of a protected circuit board assembly.
Internal 5A resettable fuse.
Durable plastic enclosure with flush mounted LED indicators.
Fully populated 16 pin OBD-II DLC for support of all vehicle communication protocols.
Switchable 120 ohm CAN termination.
Modular design that allows for more than 150 available ECU programming harnesses.
UNDER THE HOOD - SWITCH ASSEMBLY INTERNALS
CLICK ON IMAGE FOR A LARGER VIEW
With the top of the switch assembly removed, you can see our well thought out circuit board assembly with high quality components. This is the same circuit board assembly that is used with commercial BenchForce™ aluminum switch assemblies. This enthusiast switch assembly has tremendous value without compromise.
BENCHFORCE™ ON THE BENCH
CLICK ON IMAGE FOR A LARGER VIEW
This image represents the typical usage of BenchForce™ products. Connected to the switch assembly are a programming interface cable (in this case HP Tuners MPVI2), an ECU and its harness (in this case E67 ECM), and a 12V battery power source (in this case an adjustable power supply sourced through Amazon for about $70). The laptop is ready to read/write the ECM calibration using HP Tuners VCM Editor software.
Looking at this photo, the following are included:
BenchForce switch assembly with plastic housing.
2.1mm DC power cable pigtail (without shown battery clips)
ECU programming harness as advertised from above.
Looking at this photo, the following are NOT included:
GM E67 ECM
AC to DC power suppply (purchased for about $70 through Amazon)
HP Tuners MPVI2 programming interface cable
Laptop with HP Tuners software.